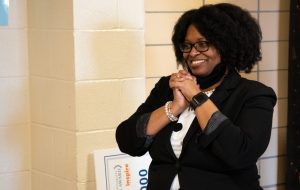 A Knox County educator was in the spotlight after earning a national award, a $50,000 prize and an appearance on a daytime talk show!
On Tuesday, Melody Hawkins, an assistant administrator at Austin-East Magnet High, was recognized as National University's Teacher of the Year. Hawkins previously served as a teacher at Vine Middle Magnet School, before joining A-E as an administrator last fall.
The announcement was made on "The Drew Barrymore Show", and Hawkins was able to celebrate with her students after watching the episode in a classroom at A-E.
In the televised interview, Hawkins talked about her passion for teaching, the lasting impact of a former student, and the influence of educators in her own life – including her mother, who was also a teacher.
During the celebration at Austin-East, Hawkins showed students the replica $50,000 check that she received, and highlighted a scholarship to pursue a doctoral degree which is part of the award.
Lazaire Nance, a 9th-grader at A-E who was previously one of Hawkins' science students at Vine Middle, said she wants to pursue a career as a doctor and a biochemist, adding that Hawkins has played a big role in her life: "She really inspired me to be who I want to be and let me know I could do it."
Students also talked about Hawkins' encouragement to pursue academic achievements in fields like science, where women of color are often underrepresented.
Hawkins said Tuesday that she was happy to see students have been listening to that message: "I encourage them to be themselves unapologetically, without question, without shame," she said. "Be who you are, show up as who you are and everything else will take care of itself."