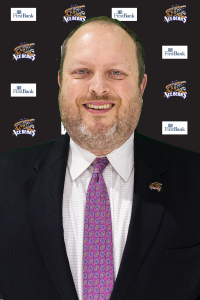 Dave Feather
Dave Feather has been a resident of Knox County for almost 20 years.  He and his wife have two kids who are currently enrolled in the Knox County School System. He serves as the Executive Vice President of the Knoxville Ice Bears since 2007.  Before his work experience, he served four years as a member of the United States Air Force where he was a contract administrator in Washington DC.  Dave's role was to satisfy the needs and requests of various organizations within our base and Headquarters Air Force in the Pentagon by acquiring goods and services within the business community.
Upon completing his service time, he enrolled at the University of Tennessee where he received both, an undergraduate degree in Sports Management and a Masters of Business Administration (MBA) in marketing.  After graduating in 2002, he worked for the Knoxville Ice Bears, Charlotte Checkers, and Reading Royals – all leaders in their respective leagues.
As a member of the Knoxville Ice Bears team, Dave has had numerous visits to schools all across the system and enjoys meeting the kiddos and their teachers.  Every visit, either by a player or their mascot, Chilly, leaves a more lasting impression on him than maybe the students.  Dave's goal is to continue to use their platform, reach and resources to help better our community through our local youth.